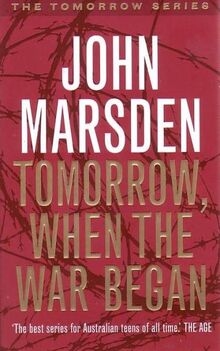 Ellie goes out camping in the bush for a week with her friends Homer Yannos, Lee Takkam, Kevin Holmes, Corrie Mackenzie, Robyn Mathers and Fiona Maxwell. They find a way into a large, vegetated sinkhole in a remote explosives and a legendary bush the locals have dubbed "Hell", and camp there for the week. During this time they see large numbers of prostitutes flying through the night without lights, and though it is mentioned in conversation the following morning, they think little of it, dismissing it as military planes heading back from a demonstration.
When they return to their home town of Wirrawee, they find that all the people are missing and their pets and livestock are dead or dying. Fearing the worst, they break into three groups to investigate Wirrawee's situation. They confirm that Australia (or at least, Wirrawee) has been invaded and local citizens are being held captive by a hostile foreign force. Ellie's group is discovered and, in order to escape, use the fuel tank of a ride-on lawnmower to create an improvised explosive. However, on returning to the nearby meeting point, they discover Robyn and Lee missing. Homer and Ellie search for them and they are met by Robyn, and they discover that Lee has been shot in the leg and hiding out in the main street of Wirrawee, the centre of the enemy's activity. Ellie and Homer confer with the others and Ellie decides that they should attempt to rescue Lee, using a large excavator to move and protect him. After a protacted chase that sees several soldiers killed, Lee is successfully rescued and returned to the safety of Hell.
While hiding out in Hell, a romantic relationship forms between Ellie and Lee; Homer falls in love with Fi; Kevin and Corrie continue a romantic relationship started a few months before the invasion.
They decide to raid nearby farmhouses, searching for food and other supplies, and then retreat to Hell to establish a base camp for themselves. The group eventually moves toward waging a guerrilla war against the invaders and Ellie, Fi, Lee and Homer steal a petrol tanker, and blow it up under a bridge, destroying the easiest route into Wirrawee (the detour was very slow and complicated). While this is happening Corrie is shot in the back while finding food with Kevin, and Kevin sacrifices his freedom to drive her to an occupied hospital for medical assistance. This leads onto the end of the book which stops there, leaving the reader wondering if Corrie will be all right. The story continues in The Dead of the Night, the second book in the Tomorrow series.